Arias Tennis Wizard Nine
Winter Tennis
Winter is definitely here and gone are all the wishes that warm weather will stay longer than ever before. Even though it gets dark earlier and it gets cold outside there is still things you can do to keep playing.
Here are some suggestions:
Play outside if it's not too cold. It's not so bad playing in temperature over 40 degrees. There will be plenty of days of weather near 50 degrees. Have a friend or group of friends ready to play if the weather gets warm enough so you can go to your local courts and play. Most schools and parks keep nets up in the winter. If no nets are up you can always use a volley ball net or a rope tied to each post.
Playing in cold weather is not that uncommon. Weather below 40 is cold but if you wear layers and use fingerless gloves you can still have a good time. I've met a lot of top level players from our area and in cold countries overseas. Everyone I've met who has played outside in winter weather. Sure it's not for every one but think of all the open courts. Keep in mind that balls don't bounce as well at cold temperatures. This actually helps you develop better ball control.
Rent indoor time. You don't have to sign up for lessons just to play tennis. If you live near a club that doesn't require membership you can rent courts as a group. Get a group of 4 or 5 players together and rent 1 ½ or 2 hours of court time. It costs less per person and you can still have a good time. Set up a rotation so everyone plays just like we do in the SCJTL Summer and Indian Summer League.
Some clubs have rules posted that allow only up to 4 players on a court. If so, one player can wait in the lobby while the others play then rotate in. You can go out afterward and get a bite to eat, go to a movie, or do whatever as a group. Suggestion: if your parents leave you at the club on your own remember to act responsibly and follow club rules so you don't get hassled when you do this again.
No one to play with; USE THE WALL! Here's a good routine to follow:
Back board drill:
Draw a line 3'6" across the wall.
Warm up hitting slow paced shots at least 3 feet high about the line. Focus on the ball and your movement while warming up.
Try to hit minimum of 35 to 50 shots without interruption.
Drill:
Series of specific drill each with a minimum goal of 25 shots without interruption. If you miss before your goal do it over again but attempt only 3 times.
Forehands
Backhands
Intervals:
These should be done continuously:
3 forehands > 3 backhands <- 10 times
2 forehands > 2 backhands <- 10 times
1 forehand > 1 backhand <- 10 times
Do the same with volleys.
Serve and first shot drill:
Serve the ball and play first shot (directional of course) to a target on the wall.
Try standing closer every time you easily meet your goal.
You can even try serve and volley this way.
Variations:
Focus on one type of spin at a time or even mixing it up in increments.
3 basic shots:
Topspin
Backspin
High looping shot
This should take about an hour and your racquet control should improve dramatically.
The main goal is to play as much as possible. The more time you spend on the court the more likely you will improve your game when the warm weather returns and the outdoor season starts.
Send your questions to the

---
< Previous | Return To Wizard Home | Next >
Programs


The SCJTL Summer Tennis League an inclusive "playing" experience for all junior tennis participants. Since 1997 the SCJTL Summer Tennis League has offered all participants the opportunity to play on teams on a league that emphasizes fun, fitness and friends.
Tennis Lessons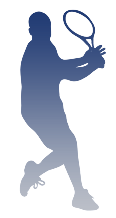 Joe Arias is available for a full range of tennis lessons and personal coaching services. Private and group lessons for all ages and levels. Specialist in tennis biomechanics corrections and improvements, game style enhancement, singles and oubles training .
Find Out More About Tennis Lessons
SCJTL Training Centers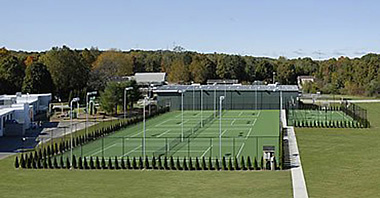 The SCJTL Training Centers are learning and skill development facilities. Kids and adults learn and improve tennis skills thru SCJTL Personal Coaching Services and SCJT Player Development programs.
Find Out More About SCJT Training Center
SCTEF

Suffolk County Tennis and Education Foundation, Inc. (SCTEF) is a New York State, non profit corporation and Federal 501(c)(3) created in 2003, with the purpose of providing athletic, educational and charitable activities to all Suffolk County residents regardless of age, ability or socio-economic status.